wszystkie poziomy cenowe

minimum

standard

premium
wszystkie liczby
osób
wszystkie przedziały
wiekowe
wszystkie opcje
płci

brak osób

niemowlę

płeć żeńska

1 osoba

dziecko

płeć męska

2 osoby

nastolatek

5 osób

młody

grupa

średni

tłum

senior
wszystkie opcje
kolorów
wszystkie
orientacje
wszystkie
kąty ujęcia

kolorowe

poziome

zbliżenie

mono

pionowe

poziome

czarno-białe

kwadratowe

z dołu

panoramiczne

z góry

z lotu

z kosmosu
wszystkie
typy utworów
wszystkie
zastosowania
wszystkie
wielkości plików

zdjęcia

kreatywne

małe - web, mobile
(do 900 pikseli)

grafiki

redakcyjne

srednie
(300 dpi, A5-A6)

duże
(300 dpi, A4-A3+)
wszystkie
rodzaje licencji
wszystkie
znane ograniczenia
wszystkie
zasoby

Rights Managed (RM)

tylko z prawami do
wizerunków osób

FotoChannels

Royalty Free (RF)

tylko dostępne do pobierania
w ramach uprawnień użytkownika

Corbis

tylko dostępne do
wydruków dekoracyjnych
wszystkie kolekcje Kreatywne Rights Managed (RM)
| | | | | | |
| --- | --- | --- | --- | --- | --- |
| | Coverpixx | | RM Ableimages | | RM arabianEye |
| | FCH Creative RM | | RM Ableimages (premium) | | RM Arcaid |
| | FCH Grafiki | | RM All Canada | | RM Arcaid (premium) |
| | FCH Lifestyle | | RM Amana | | RM Asia Images |
| | Food and Drink Photos | | RM Amana (premium) | | RM Asia Images (premium) |
| | RM A Stock | | RM Amana Illustration | | RM Aurora |
| | | | | | |
| --- | --- | --- | --- | --- | --- |
| | RM Aurora (premium) | | RM Bridge | | RM Comm RM Illus Val |
| | RM beyond fotomedia | | RM Canopy | | RM Commercial MP Illustrations |
| | RM beyond fotomedia (premium) | | RM Cherry | | RM Creasource |
| | RM Blend (Opal) | | RM Citizen Stock | | RM Crush Superior |
| | RM Blink | | RM Comet | | RM cultura |
| | RM Blue Jean Images | | RM Comm RM Illus | | RM Cultura (Opal) |
| | | | | | |
| --- | --- | --- | --- | --- | --- |
| | RM Cusp | | RM Food and Drink Photos | | RM Garden Photo World |
| | RM DK Stock | | RM Food Passionates | | RM Garreau |
| | RM Eureka | | RM Food Passionates (premium) | | RM glow |
| | RM Eureka Premium | | RM fStop | | RM Golden Pixels |
| | RM F1 Online | | RM Galeries | | RM Graphistock Photo |
| | RM Flirt | | RM Galeries (premium) | | RM I Dream Stock |
| | | | | | |
| --- | --- | --- | --- | --- | --- |
| | RM Illustration Works | | RM keepsake | | RM Moodboard |
| | RM Images.com | | RM Latitude Premium | | RM Moodboard (Opal) |
| | RM India Pictures | | RM Luckypix | | RM Nordic Photos |
| | RM Ivy | | RM Luckypix (premium) | | RM Oredia |
| | RM Jon Arnold | | RM Minden Pictures | | RM PhotoCuisine |
| | RM Jon Arnold Non-Exclusive (Allure) | | RM Minden Pictures Premium | | RM Photonewzealand Images |
| | | | | | |
| --- | --- | --- | --- | --- | --- |
| | RM Photononstop | | RM Solus | | RM Terra Standard |
| | RM Photononstop (premium) | | RM Spaces | | RM Topic |
| | RM RelaX Images | | RM Spaces (premium) | | RM Topic (Editorial) |
| | RM Robert Harding World Imagery | | RM Super Stock | | RM Transtock |
| | RM Robert Harding World Imagery (premium) | | RM Super Stock (Commercial) | | RM Verge |
| | RM Scope Image | | RM Terra Premium | | RM Viewstock |
RM Water Rights

ZZ PCG

RM Westend61

RM Westend61 (premium)

RM WIN Initiative

RM zefa

vario creative
wszystkie kolekcje kreatywne Royalty Free (RF)
| | | | | | |
| --- | --- | --- | --- | --- | --- |
| | FCH Creative RF | | Mint Images | | RF Aperture |
| | FCH Encyclopedia RF | | Radius | | RF arabianEye |
| | Foodcollection | | RF 40260 | | RF Arcaid |
| | Glowimages RF | | RF A Stock | | RF Asia Pix |
| | Image Source | | RF Add Images | | RF asiaselects |
| | IS2 | | RF Amana | | RF Aurora |
| | | | | | |
| --- | --- | --- | --- | --- | --- |
| | RF Aurora(Aria) | | RF Bloom | | RF Cardinal Value |
| | RF Bestview | | RF Boost | | RF Citizen Stock |
| | RF beyond fotomedia | | RF Built | | RF Comm RF Illus Val |
| | RF Big Cheese | | RF Built(Aria) | | RF Comm RF Illustration |
| | RF Blend | | RF Cardinal Standard | | RF Cultura Limited |
| | RF Blend(Aria) | | RF Cardinal Super Value | | RF Cultura Limited(Aria) |
| | | | | | |
| --- | --- | --- | --- | --- | --- |
| | RF Dex | | RF Flame | | RF GoldWave |
| | RF Doc-Stock | | RF fStop | | RF Hero Images |
| | RF eastnine illlus basic | | RF fStop Illustration | | RF Hero Images (premium) |
| | RF eastnine illus plus | | RF fStop(Aria) | | RF Huntstock |
| | RF F1 Online | | RF Garden Photo World | | RF I Love Images |
| | RF Fancy | | RF Golden Pixels | | RF Illustration Works |
| | | | | | |
| --- | --- | --- | --- | --- | --- |
| | RF Image Source | | RF imagezoo illus cargo | | RF Jon Arnold |
| | RF Image Source Value | | RF imagezoo Illustrations | | RF keepsake |
| | RF Image Source(Aria) | | RF Imagine | | RF Latin Stock |
| | RF Image Werks | | RF India Picture | | RF Link Image |
| | RF Imagemore | | RF India Picture Lite | | RF Lumi Images |
| | RF Images.com | | RF InsideOutPix | | RF Maskot |
| | | | | | |
| --- | --- | --- | --- | --- | --- |
| | RF Maskot(Aria) | | RF Onoky | | RF RelaXimages |
| | RF Matton | | RF Onoky(Aria) | | RF Robert Harding |
| | RF Moodboard | | RF PhotosIndia | | RF Shannon Fagan |
| | RF Moodboard Micro | | RF Picture India | | RF Smart Magna (IML) |
| | RF Moodboard(Aria) | | RF Ramble | | RF Sodapix |
| | RF National Geographic Your Shot | | RF Redchopsticks Photography | | RF SoFood |
| | | | | | |
| --- | --- | --- | --- | --- | --- |
| | RF Spaces | | RF Stockfood | | RF Tetra(Aria) |
| | RF Spaces(Aria) | | RF Stocktrek | | RF TongRo Illustration |
| | RF Spirit | | RF Studio Eye | | RF Viewstock |
| | RF Spirit Super Value | | RF Super Stock | | RF Water Rights |
| | RF Stock 4b | | RF Tag Mobile Collection | | RF Wavebreak |
| | RF Stock 4b(Aria) | | RF Tetra | | RF Wavebreak Value |
| | |
| --- | --- |
| | RF Wavebreak(Aria) |
| | RF Westend61 |
| | RF Westend61(Aria) |
| | RM Robert Harding World Imagery (premium) |
| | ZZ PCG |
wszystkie kolekcje show biznesowe
| | | | | | |
| --- | --- | --- | --- | --- | --- |
| | FCH Entertainment | | RM Conde Nast Entertainment Premium | | RM Corbis Entertainment Premium |
| | Insight | | RM Conde Nast WWD | | RM Corbis Events |
| | RM Bettmann Entertainment | | RM Conde Nast WWD Premium | | RM Corbis Portraits |
| | RM Bettmann Entertainment Premium | | RM Corbis Entertainment | | RM Historical Entertainment |
| | RM Bettmann Premium | | RM Corbis Entertainment Archive | | RM Historical Entertainment Premium |
| | RM Conde Nast | | RM Corbis Entertainment Archive Premium | | RM Historical Premium |
RM Outline $

RM Outline Music $$$

RM Sygma Premium

RM Outline $$

RM Outline to Entertainment

RM Zuma Entertainment

RM Outline $$$

RM Retna

Silhouette

RM Outline Beauty

RM Retna Premium

RM Outline Music $

RM Sygma Entertainment

RM Outline Music $$

RM Sygma Entertainment Premium
wszystkie kolekcje newsowe
| | | | | | |
| --- | --- | --- | --- | --- | --- |
| | FCH Entertainment | | RM AP News | | RM Corbis News |
| | FCH News | | RM Corbis Entertainment | | RM Corbis News Archive |
| | FCH Sport | | RM Corbis Entertainment Archive | | RM Corbis News Archive Premium |
| | Insight | | RM Corbis Entertainment Archive Premium | | RM Corbis News Pool |
| | Magnum Photos | | RM Corbis Entertainment Premium | | RM Corbis Premium News |
| | RM AdMedia | | RM Corbis Events | | RM Corbis Premium Sports |
| | | | | | |
| --- | --- | --- | --- | --- | --- |
| | RM Corbis Reportage | | RM Demotix Mobile | | RM Imagine China |
| | RM Corbis Sports | | RM Documentary | | RM National Geographic Premium |
| | RM Corbis Sports Archive | | RM Documentary Value | | RM National Geographic Standard |
| | RM Corbis Sports Archive Premium | | RM epa | | RM NewSport |
| | RM Corbis Wire | | RM Historical Sports Premium | | RM Nomad |
| | RM Demotix | | RM Icon Sports Media | | RM Retna |
RM Retna Premium

RM Zuma News

RM Reuters

RM Zuma Sports

RM VII

vario editorial

RM VII - Premium

RM Xinhua

RM Zuma Entertainment
wszystkie kolekcje dzieł sztuki
| | | | | | |
| --- | --- | --- | --- | --- | --- |
| | Bridgeman Art Library | | RM Bettmann Entertainment | | RM Conde Nast WWD |
| | British Museum Images | | RM Bettmann Entertainment Premium | | RM Conde Nast WWD Premium |
| | FCH Fine Arts | | RM Bettmann Premium | | RM Fine Art - Ansel Adams |
| | FCH Historia | | RM Bettmann Sports | | RM Fine Art - Corbis Art Premium |
| | Magnum Photos | | RM Conde Nast | | RM Fine Art - Corbis Museum |
| | RM Bettmann | | RM Conde Nast Entertainment Premium | | RM Fine Art - Smithsonian Institution |
RM Historical

RM National Geographic Vintage Premium

RM Sygma Premium

RM Historical Entertainment

RM National Geographic Vintage Standard

RM Turnley

RM Historical Entertainment Premium

RM Retro

RM Value Art

RM Historical Premium

RM Sygma

Scala Archives Art

RM Historical Sports

RM Sygma Entertainment

Scala Archives History

RM Historical Sports Premium

RM Sygma Entertainment Premium
wszystkie kolekcje historyczne
Bridgeman Art Library

RM Fine Art - Corbis Art

RM Value Art

British Museum Images

RM Fine Art - Corbis Art Premium

Scala Archives Art

FCH Fine Arts

RM Fine Art - Corbis Museum

RM Fine Art - Ansel Adams

RM Fine Art - Smithsonian Institution

RM Fine Art - Contemporary Artists

RM Fine Art – Contemporary Artists Premium

RM Fine Art - Copyrighted Art

RM Thunderdog
wszystkie kolekcje encyklopedyczne
| | | | | | |
| --- | --- | --- | --- | --- | --- |
| | FCH Architektura | | RM All Canada (Editorial) | | RM Bettmann |
| | FCH Encyclopedia | | RM AP News | | RM Car Culture |
| | FCH News | | RM arabianEye (Editorial) | | RM Corbis News |
| | Food and Drink Photos | | RM Arcaid | | RM Corbis News Pool |
| | RM AdMedia | | RM Arcaid (premium) | | RM Corbis Premium News |
| | RM All Canada | | RM Aurora (Editorial) | | RM Corbis Reportage |
| | | | | | |
| --- | --- | --- | --- | --- | --- |
| | RM Corbis Wire | | RM Documentary Value | | RM Fine Art - Contemporary Artists |
| | RM Demotix | | RM Encyclopedia Standard | | RM Fine Art - Copyrighted Art |
| | RM Demotix Mobile | | RM epa | | RM Fine Art - Corbis Art |
| | RM Dinodia (Editorial) | | RM Eureka | | RM Fine Art - Corbis Art Premium |
| | RM Doc-Stock | | RM Eureka Premium | | RM Fine Art - Corbis Museum |
| | RM Documentary | | RM Fine Art - Ansel Adams | | RM Fine Art - Smithsonian Institution |
| | | | | | |
| --- | --- | --- | --- | --- | --- |
| | RM Fine Art – Contemporary Artists Premium | | RM Historical Sports | | RM Latitude Premium |
| | RM Food and Drink Photos | | RM Icon Sports Media | | RM Minden Pictures |
| | RM Food Passionates | | RM Imagine China | | RM Minden Pictures Premium |
| | RM Food Passionates (premium) | | RM Izmo Cars | | RM National Geographic Premium |
| | RM Haven | | RM Jon Arnold | | RM National Geographic Standard |
| | RM Historical | | RM Jon Arnold Non-Exclusive (Allure) | | RM National Geographic Vintage Premium |
| | | | | | |
| --- | --- | --- | --- | --- | --- |
| | RM National Geographic Vintage Standard | | RM Photonewzealand Images | | RM Sheltered |
| | RM National Geographic Your Shot | | RM Photononstop (Editorial) | | RM Spaces |
| | RM NewSport | | RM Retro | | RM Sygma |
| | RM Nomad | | RM Reuters | | RM Sygma Premium |
| | RM Nordic Photos | | RM Robert Harding World Imagery | | RM Terra Premium |
| | RM PhotoCuisine | | RM Robert Harding World Imagery (premium) | | RM Terra Standard |
RM Thunderdog

RM VII - Premium

RM Topic (Editorial) (premium)

RM Xinhua

RM Transtock

RM Zuma News

RM Turnley

RM Value Art

RM VII
wszystkie kolekcje sportowe
| | | | |
| --- | --- | --- | --- |
| | FCH Moto | | RM Corbis Sports Archive Premium |
| | FCH Sport | | RM Historical Sports |
| | RM Bettmann Sports | | RM Historical Sports Premium |
| | RM Corbis Premium Sports | | RM Icon Sports Media |
| | RM Corbis Sports | | RM NewSport |
| | RM Corbis Sports Archive | | RM Zuma Sports |
wszystkie kolekcje ilustracyjne
| | | | | | |
| --- | --- | --- | --- | --- | --- |
| | Coverpixx | | Flower Photos | | RM Amana |
| | Eye Ubiquitous | | Food and Drink Photos | | RM Amana (premium) |
| | FCH Creative RM | | RM A Stock | | RM Amana Illustration |
| | FCH Entertainment | | RM Ableimages | | RM Arcaid |
| | FCH Grafiki | | RM Ableimages (premium) | | RM Arcaid (premium) |
| | FCH Lifestyle | | RM All Canada | | RM Asia Images |
| | | | | | |
| --- | --- | --- | --- | --- | --- |
| | RM Asia Images (premium) | | RM Blink | | RM Citizen Stock |
| | RM Aurora | | RM Blue Jean Images | | RM Comet |
| | RM Aurora (premium) | | RM Bridge | | RM Comm RM Illus |
| | RM beyond fotomedia | | RM Canopy | | RM Comm RM Illus Val |
| | RM beyond fotomedia (premium) | | RM Car Culture | | RM Commercial MP Illustrations |
| | RM Blend (Opal) | | RM Cherry | | RM Creasource |
| | | | | | |
| --- | --- | --- | --- | --- | --- |
| | RM Crush Superior | | RM F1 Online | | RM fStop |
| | RM cultura | | RM Fine Art - Corbis Art | | RM Galeries |
| | RM Cultura (Opal) | | RM Flirt | | RM Galeries (premium) |
| | RM Cusp | | RM Food and Drink Photos | | RM Garden Photo World |
| | RM DK Stock | | RM Food Passionates | | RM Garreau |
| | RM Encyclopedia Standard | | RM Food Passionates (premium) | | RM glow |
| | | | | | |
| --- | --- | --- | --- | --- | --- |
| | RM Golden Pixels | | RM Ivy | | RM Luckypix (premium) |
| | RM Graphistock Photo | | RM Jon Arnold | | RM Minden Pictures |
| | RM I Dream Stock | | RM Jon Arnold Non-Exclusive (Allure) | | RM Minden Pictures Premium |
| | RM Illustration Works | | RM keepsake | | RM Moodboard |
| | RM Images.com | | RM Latitude Premium | | RM Moodboard (Opal) |
| | RM India Pictures | | RM Luckypix | | RM Nordic Photos |
| | | | | | |
| --- | --- | --- | --- | --- | --- |
| | RM Oredia | | RM Robert Harding World Imagery | | RM Spaces (premium) |
| | RM PhotoCuisine | | RM Robert Harding World Imagery (premium) | | RM Super Stock |
| | RM Photonewzealand Images | | RM Scope Image | | RM Super Stock (Commercial) |
| | RM Photononstop | | RM Sheltered | | RM Terra Premium |
| | RM Photononstop (premium) | | RM Solus | | RM Terra Standard |
| | RM RelaX Images | | RM Spaces | | RM Topic |
RM Topic (Editorial)

RM Westend61 (premium)

RM Transtock

RM WIN Initiative

RM Verge

RM zefa

RM Viewstock

Scala Archives Art

RM Water Rights

vario creative

RM Westend61
wszystkie kolekcje architektoniczne
| | |
| --- | --- |
| | FCH Architektura |
| | RM Arcaid |
| | RM Arcaid (premium) |
| | RM Sheltered |
| | RM Spaces |
wszystkie kolekcje motoryzacyjne
| | |
| --- | --- |
| | FCH Moto |
| | RM Car Culture |
| | RM Izmo Cars |
Pliki dostępne natychmiast:
246 x 400 px
ca. A5 72 dpi
3494 x 5680 px
ca. A3 300 dpi
Cena tego utworu NIE zależy od wielkości pliku, lecz od zakresu licencji jaki zdefiniujesz w następnym kroku. Wybierz taki plik jaki będzie odpowiadał Twoim potrzebom.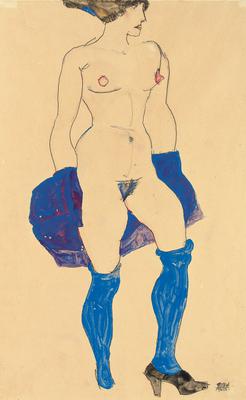 Numer utworu: BAL0166026
Typ licencji:
RM
Tytuł utworu:
Standing woman with shoes and stockings, 1913 (w/c & pencil on paper), 47.9x32 cm
Opis utworu:
Austrian Artist, Location: Private Collection
Autor utworu:
Data utworzenia:
rok 1913
Sygnatura:
Reprodukcja: © Bridgeman Art Library / PhotoPower
Kolekcja:
Bridgeman Art Library
Model Release:
brak danych
Property Release:
brak danych
Znane ograniczenia:
» każde wykorzystanie nieredakcyjne (np. reklamowe, promocyjne) może wymagać dodatkowego zezwolenia
Słowa kluczowe:
akt<nagość>
niebieski
rysunek
zdejmować <ubranie>
skarpeta
akwarela
płeć żeńska
kolekcja prywatna
Bridgeman Art Library
Schiele, Egon (1890-1918)
artysta austriacki
Rok 1913 n.e.
Moje wybory (koszyki)
Kliknij na ikonkę koszyka pod zdjęciem by dodać je do wyboru.